There are many types of water bottles on the market now. Depending on the material, there are glass, stainless steel, and ceramic. According to the different capacity, it can be divided into 350ml, 550ml, 600ml, 750ml, 2.5L...1 gallon.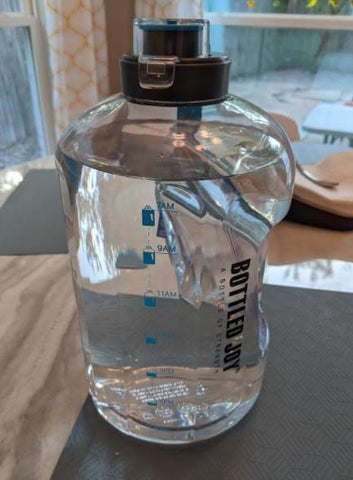 1 GALLON MOTIVATIONAL WATER BOTTLE WITH TIME MARKER,LEAKPROOF TRITAN/PETG LARGE SPORTS WATER JUG BPA

Today we are mainly talking about BOTTLED JOY 1 gallon Tintan and PCTG jugs. People like to exercise more and more, and they always bring clean water with them when they exercise. Because of this, the BOTTLED JOY 1-gallon water jug is very popular in Europe and America, especially in the United States, where this water bottle is very popular. why?

First of all, this water jug is made of healthy plastic Tritan/PCTG, which is a healthy and environmentally friendly plastic. When the water temperature reaches 100°C, the water bottle will not be hydrolyzed to produce BPA (bisphenol A). However, the plastic PC used in traditional bottles will be hydrolyzed to produce BPA above 60°C. After long-term absorption of BPA (bisphenol A) by the human body, it will affect the human reproductive organs. So now, health-conscious Americans like Tritan/PCTG this plastic water bottle as a fitness water bottle.

Furthermore, the daily drinking volume of the human body is generally 3.78L, which is the healthiest drinking volume. Of course, some people who lose weight usually exercise more than the average person in order to lose weight, so their drinking water will definitely exceed this number. In order to meet the needs of those who love sports, BOTTLED JOY specially tailored for these people, launched this 1-gallon sports jug. This sports water jug also has a handle, mainly for the user to carry, but also has a function, that is, it can be used as a dumbbell, so it is often found that many customers will buy two at the same time.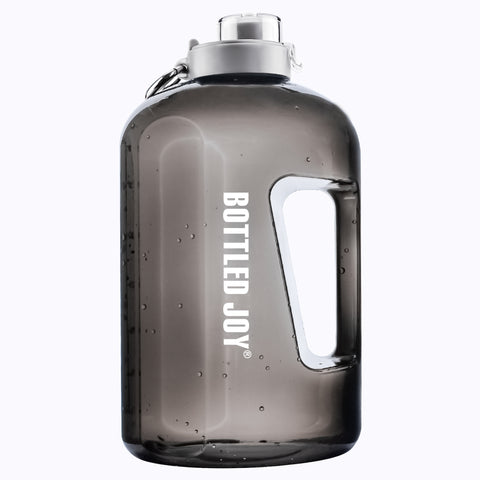 LEAK PROOF 2.5L SPORTS WATER BOTTLE WITH MOTIVATIONAL TIME MARKER GYM FITNESS WATER JUG WITH ROPE


Of course, some customers don't want to be that big, so we have also produced 1.5L, 2.2L and 2.5L, in order to meet the needs of various enthusiasts. In addition, we also produce direct sales according to different drinking methods. With the straw. It can be seen that BOTTLED JOY's water bottle design is very familiar, because BOTTLED JOY has 10 years of experience in manufacturing sports water bottles. Our products can stand the test of the market.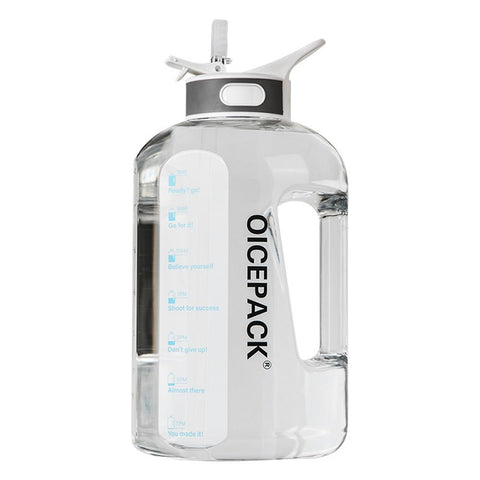 STRAW SPORTS WATER BOTTLES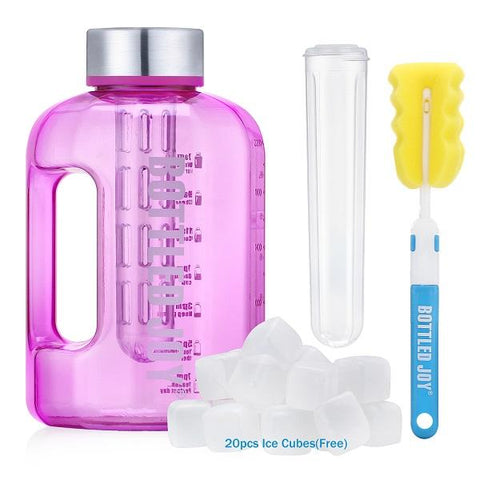 DIRECT DRINKING SPORTS WATER BOTTLES
Recommended Reading《Tritan Water Bottles & PCTG Water Bottles|Which is Better?》